Boxtech is officially out on Primary Server, with not one, but SIX box types to choose from!  Containers have been one of the most popular suggestions over the past few years, so I'm very excited to finally have containers available.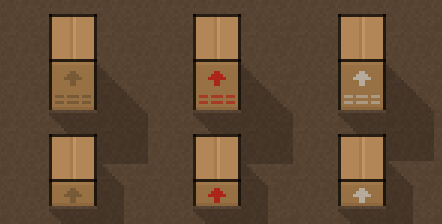 Public Box – anyone can put items in or take items out
Owner Box – only you can put items in or take items out
Town Box – only town citizens can put items in or take items out (if not placed inside a town, will function as an owner box)
Each box type comes in a small and large size.  Small can handle 500 objects, while large can handle 1,000 objects.
You can carry boxes with you in your inventory, or even put boxes inside other boxes (because physics :P).  The box will only count as a single item towards your inventory or region limit.
While near a box, press E to use it.  When done, simply press escape to clear all open windows from your screen.
Special thanks to everyone who suggested the idea, and also to those who helped test it — including Value, Hermit, Snakezxz, Pyoro, Zooty, ToxicPenguin_, El Dromedario, Captain Fearless, alex82, and pixelplayer2.  Sorry if I missed anyone 🙂