I was dared to make this on the livestream. Challenge accepted.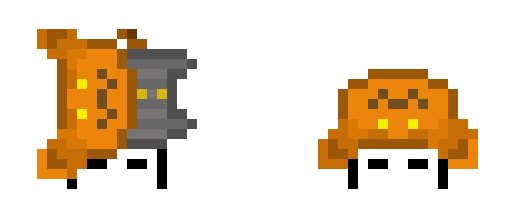 Also, there's already fanart of this before I even was able to post this blog 😀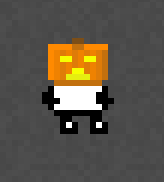 Fresh in for October 31st, grab the Pumpkin Mask today in-game under Clothing >> Accessories.  It will only be available to purchase today(ish), but can be equipped anytime after purchase.
Note there's a minor lighting bug with it currently where the lighting is slightly off when moving left -- I need to make accessories support different textures for left/right like hats do.

We're halfway through our server fundraiser and 90% funded!  Thanks to everyone who has contributed!
Many people have asked about substitutions for various reward tiers, so I have made a few of the reward tiers be options:
The Pocket Universe tier is now the  $70 Choice Pack -- your choice of ONE of the following:

 

(at the conclusion of the fundraiser, a survey will be mailed out for you to select one -- ensure your e-mail is setup in account options!)

Second Pocket Universe, pre-expanded to 5x5 regions. (I realized 4x4 regions were an odd size for a town, so I upped it to 5x5 regions!)

Before the end of the fundraiser, you should ensure your first pocket universe is accessible through telepad or towntele, since a second PU may change which PU the root telepad takes you to.
I will create a second PU for you of usual 2x2 size and give you a token for a free white TS.  I will also place a temporary publicpad to there and notify you of its name.
Place your TS in the PU as desired (this expands it to 3x3), and ensure it is named so you can towntele there.  Then notify me you are ready for the expand.
I will townexpand once for you, bringing the second PU to 5x5

Or, Existing Pocket Universe Upgrade

 

- upgrade your existing PU from a purple townstone to a white townstone, then town expand one time to 5x5 regions total (include current town name in survey)
Or, Existing Town Upgrade

 

- upgrade your existing townstone with 3x3 townstone once to a 5x5 town (include current town name in survey)

Region Expand blocks - massively more being given out, and even a new type of expander.  If you spend at least $100, then for each $50 you have purchased, you will receive BOTH:

Two 2k expand blocks - Sets the max objects for a region to 2,000 blocks
AND: Seven +250 expand blocks - Increases the max objects for a region by 250 blocks (no higher than 2k blocks total)
These items will be granted for each $50 spent as long as you spend at least $100, so for example $100 would net you four 2k blocks and fourteen +250 blocks, $150 would net you six 2k blocks and twenty one +250 blocks, etc...
Also note that more objects in a region can create more latency, although people seem generally pretty happy with the 2k regions from the last fundraiser.

Origin plot is now $500 Choice Reward

 

-- Your choice of ONE of the following

 

(at the conclusion of the fundraiser, a survey will be mailed out for you to select one -- ensure your e-mail is setup in account options!)

Origin plot

 

- subject to building height restrictions
Or: 10x "water" objects

$2k Clarification: if you purchase $2k+ during the fundraiser (wow), I will do one custom designed object per $1k purchased.
And as a reminder, if we make it to 100% of our funding goal, I will double your gold & plat purchased during the fundraiser!

Transponder backers
can now try out Transponders for themselves by:
Launch game on Potato server
In web browser, go here
Click option for Transponders on Potato
Within 30 seconds, they should show up in your inventory
It's still super early, but you can place a Transponder in your pocket universe and (attempt to) defend it.  Right now surviving the full five minute round is very tough, but I'll be doing more balancing on this in future.
Transponders will cause waves of mobs to attack you, including other players if they use a Combatpad (there's one in Potato's Root).  Waves will get progressively more difficult, influencing how many mobs/other players are spawned in.
While in a match, players with red name are enemies, green names are allies, and white names are observers (they cannot cause damage to blocks or players).
Please note that mobs/players CAN destroy blocks, so don't have any important blocks you care about (especially plat blocks) in the pocket universe when a Transponder is active.

8BitMMO is an awesome indie construction sandbox game, but it's not free to develop and run. That's why every year we do a fundraiser / sale to help raise money for servers and development.
Our server infrastructure costs about $445 each month, so our goal for this sale is to cover server costs for the next year ($5,340). Every purchase helps offset this cost! If we manage to reach this goal, I will double your gold & plat purchased during the fundraiser!
Support development and get great rewards. In addition to the usual gold & platinum you get from purchases, for the next month you get extra goodies -- read up here for details.
--
Note that any October purchases have been grandfathered into the fundraiser -- I figure that's only fair since folks are used to October purchases being part of the fundraiser and I was late in starting this year.

Here are the pics & video from my trip to Japan last month. I had such an amazing time, I'd probably move there for a while if I spoke Japanese and had a visa 😛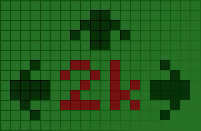 I've been getting a few questions about if Octoberbit is happening this year (Octoberbit is our usual monthlong fundraiser drive/plat sale in October). I e-mailed our top fifteen-ish backers of prior years, and didn't get much interest for doing one this year, so we're probably going to skip it for this year.
That being said, if there's substantial interest from other players, we could still do it.  Here's what the reward tiers could be below.  These are not finalized at all, just brainstorming at this point.
(Each tier includes the tiers of the previous tiers.  All prices are in US Dollars)
$1+: Thank you!
$5+:  Receive Gold / Plat pack equivalent to pledge amount, plus a TBD amount of bonus gold/plat (what should this bonus % be?)
$15+: First to get access to the New Update.  It's going to be awesome.
$25+: Trap Kit: Deter invaders with a collection of 10x spike traps and 2x turret traps (30 plat value)
$50+: Limited edition Octoberbit 2014 in-game hat
$70+: Second Pocket Universe, pre-expanded to 4x4
$100+: a 2k region expand block for each $50 pledged ($100 = 2x blocks, 150 = 3x, etc...)
$200+: Premium block set:  100 half-size marble blocks, 100 full-size marble blocks, 100 half-size red stone blocks, 100 full-size red stone blocks, 100 black tile blocks, all stored in a Big Cardboard Town Box (4 plat, 12k gold value)
$300+: Game credit - your name included in /credits
$500+: Origin plot?
$1000+: Work with me to create a custom designed hat, shirt, accessory or decorative building item, for your own use or share with your friends (will provide 1,000 hat tokens to give out as you desire).
If you're interested in doing Octoberbit this year, please make a preliminary pledge here.  If we can hit $2k in pledges, we'll do it.