The first half of Dragon Audit is now released and playable!  The game has been updated to include all of the City of Squelch.
Squelch is a city of battle accountants, and it's here where we meet one of our two main characters, George.
When George arrives at work, his boss assigns him the task of auditing Dragon Castle -- a location known to host a dangerous, fire-breathing dragon.  Nevertheless, it's his task to slay this dragon and rescue the princess... and more importantly, rescue the tax revenue.
To begin his quest, George will first have to figure out how to get out of his own city.  This is harder than you might think, as few people ever leave the safety of the city walls.  Dangerous monsters lurk outside, after all.
George will enlist the help of a cast of colorful characters he meets in his travels through the city.  Through good old fashioned adventure gameplay, you'll get to talk to many NPCs, do some light puzzle solving, and find numerous hidden jokes as you explore the city.
It's available right now via DragonAudit.com.  If you already have the game installed, simply launch again and AESU will pull & apply the patch automatically.  To ensure your game has updated to the latest version, check the build date in the bottom left of the main menu -- it should be 11/29/2019 or later.
Also look forward to the next gameplay sequence, wherein you'll get to play as our dragoness, Ayraw!


George embarks on his quest, leaving the safety of town. There's monsters outside! (They turn out to be nice though.)


The first bit of Dragon Audit gameplay is now available to play on PC! To celebrate, we have an official game announcement trailer.
For more information, see
Dragon Audit's website
.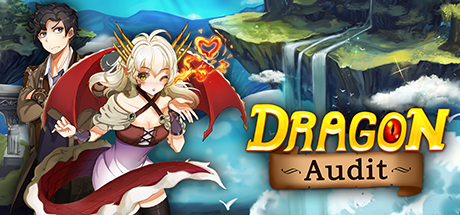 Dragon Audit is my latest indie game project:
Dragon Audit is the #1 adventure game about dragons and auditing them!  A battle accountant storms the castle to rescue a princess, but accidentally rescues an overly friendly dragoness instead. Now they're on a wild adventure to save his hometown from dark forces.
If you enjoyed my previous game jams Spaceship Crashed or The Implausible Zone, you'll like Dragon Audit as it brings similar gameplay and comedy but with a fully 3D environment.
You can check out the trailer now on the brand new Steam store page for the game.