On the 8BitMMO.net in-browser and Standalone Desktop editions of the game, there is a new purchase option for those who want to support development: Humble Widget.  I know a number of players have requested PayPal support, and via Humble Widget you can pay using PayPal or Amazon Payments.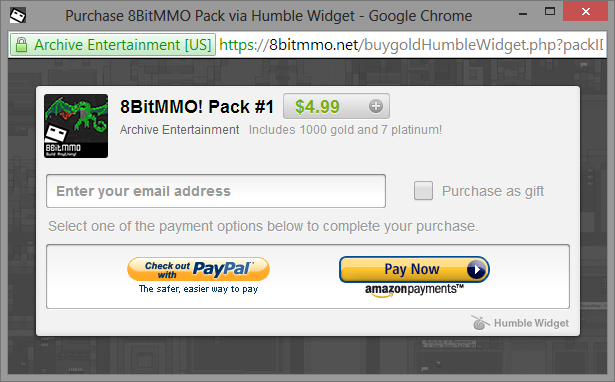 The Humble Widget will give you a redeemable token you can use in-game.  You can purchase for yourself or as a gift.
There's also a couple of bug fixes today:
Telepads bug fix - Fix for telepad sending players to root if destination is in player's inventory
Improved Outlining - Outlining now recalculates when entering/leaving overhead areas.  This can cause a 4~25ms lag hitch whenever tiles above you hide or are shown, but makes it considerably easier to see what's going on -- especially underground areas or other locations where the same tile is re-used.