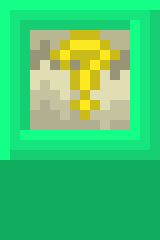 El Dromedario had a pretty good idea in the suggestion box that got some good votes: the Checkpoint Pad.  In his words:
It's a pretty simple idea but I think this is much needed in the game right now. Just as the title implies it is a pad that will act as a checkpoint. This will be really handy for those quests where you have to go through a maze or have to overcome obstacles such as the spike mazes. When a player reaches a checkpoint-pad he/she can activate it by pressing E. Once activated the player will be sent to the checkpoint whenever he/she dies. If you place multiple checkpoint-pads in a dungeon the player will be sent to the most recently activated checkpoint.
Checkpoint Pads only work in towns without PVP damage (we already have PVP respawn pads).  Additionally, the checkpoint respawn will only work while you are still in the same town the checkpoint is in.  Checkpoints don't save between server reboots, and only the most recently used checkpoint is remembered.
If you're in the same town as the checkpoint pad, you will respawn there automatically for most causes of death (except currently water).  You can also manually return to the checkpoint with /checkpoint (or /ch).
Thanks to setk, snakezxz, and xerp for Potato testing this new item.